My first interview with Marc Price was on 23rd October 2008. Exactly one year later, to the day,
Colin
was given a limited theatrical release in the UK after a barrage of media coverage. Neither of these things were things that anyone was expecting back in 2008. So, just before the film's release, I asked Marc a few questions about what had happened since we last spoke.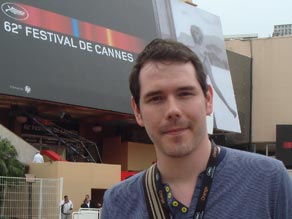 The whole '£45 film' thing: to what extent has this been a blessing and to what extent has it been a curse?
"I'm thankful there's a platform we can use to discuss the film. We really made the movie using what we had rather than what we spent the money on, so it's a good thing for the most part.
"I do get concerned when I see 'The £45 Zombie Movie!' on the posters and DVD artwork, but it's the hook our distributor feels will connect to potential sales. I can understand their perspective and they've even agreed to take it off the two-disc edition of the film, which is a remarkable show of faith on their part.
"We've had more control in the way the film is presented than most low budget film makers get with their first film. In all fairness they're trying to sell a low budget zombie movie without the word 'zombie' in the title and letting us use an unknown actor's face to fill the poster. Once the film is released I'm sure the focus will be on whether it's any good or not."
Where did the £45 angle come from? Whose idea was it?
"It came up after a discussion in Cannes with Helen Grace (our sales agent) and a producer friend of hers. A publication accidentally printed our budget at £800,000 which started a little chuckle. The producer-friend asked how much we actually spent on the film. Our sales agent didn't really know and guessed at a couple of hundred pounds. I said it was much less than that, more like £40-£45.
"The producer-friend said it was something of an achievement and that we should let people know about it. Helen, being a shrewd sales agent, knew that it would be detrimental to selling the film if a potential distributor knew how much it cost to make. I always felt we should be very open about the low cost of producing the film as it would put an audience in the right frame of mind in terms of expectation.
"After some discussion the decision was made to be fairly open about it. The next day I had an interview with ITN, mentioned the film's cost and left it at that. Later in the day ITN got back in touch asking to re-shoot the interview focusing entirely on the £45 answer. The press association contacted us as a result of the ITN interview and it took off from there, I guess."
What sort of distribution deals has Colin got around the world and how is it faring in festivals?
"We've had a lot of luck with festivals. We're due to appear in the Sao Paulo International Film Festival and Sitges among others. We've also screened twice at Raindance (and have been nominated for Best Low Budget Feature) and had two sell out screenings at this year's FrightFest.
"It all started at the Abertoir Horror Festival in Aberystwyth, around the time of our last interview. The curator of the festival, Gaz Bailey, was great to us and gave the film a great slot. It was Gaz who brought the film to the attention of Helen Grace who's very much responsible for everything that's happened. It was Helen who decided to take the film to Cannes.
"She's been working very hard with a number of foreign distributors and doesn't tell me much because I have a tendency to blab about it to anyone who asks and this can lead to undoing all her hard work. Otherwise I'd tell you everything."
What has been the most extraordinary thing to happen to you and/or the film in the last 12 months?
"It's difficult to say. Because of the film I was invited to New York as part of a panel for Viacom to talk about how the movie was made. Whilst there I was invited to visit the
Fangoria
offices!
"A time that was exceptionally special was when Saatchi & Saatchi invited me to introduce their annual director's showcase, which was easily the most terrifying experience of my life. I had the opportunity to talk about how we made
Colin
in front of a thousand people. Richard Myers and Norma Clarke were incredibly generous and it was great to be back in Cannes with them.
"The most exciting moment of that particular experience was during the talk, watching the entire crowd jump out of their seats during one of the clips."
Is there anything you would have done differently if you had known that the film would receive this much attention?
"We finished the film well over a year ago now and the entire experience was such a massive learning curve. Technically I would probably approach a few scenes slightly differently, but the tone of the film would remain the same. That was the one area I refused to compromise.
"I was lucky to have actors like
Alastair Kirton
, Daisy Aitkens, Kate Alderman, Leanne Pammen and Tat Whalley to name just a few who took a huge risk and played it with the right level of humour, irony and, above all, sombreness."
What are your plans for your next film and how have they been affected by the fuss around Colin?
"The next film takes place entirely on a Handley Page Halifax bomber returning from a mission over Europe towards the end of World War II. The battle-damaged plane struggles to remain in the air as a multi-limbed creature starts to eat one of the gunners alive.
"It sounds a bit silly when I compress what we plan to do into a brief paragraph, but I think it's possible to make an exciting, tense movie for genre fans.
"Thanks to
Colin
we're in a very fortunate position when it comes to acquiring funding, though we're still determined to hang onto our low budget ethics. The theory being that we're hoping to retain total creative control in regards to how we want to tell our story."
website: www.nowherefast.tv
Interview originally posted 20th October 2009